Sheila – Financial Coordinator
I recently relocated to Plymouth with my husband, having spent the last 26 years in the rural town of Groton, MA. I love living closer to the ocean and being able to explore all the great beaches in the area.
I've spent the last four years traveling all over the country; cheering on my son and the University of Denver men's lacrosse team. I have been a hockey/lacrosse mom for so long, that I'm now looking forward to my next chapter .. more time for relaxing on the beach, reading endless books and exploring all the wonderful shops and restaurants the South Shore has to offer!
Helen – Scheduling Coordinator
I've lived on the South Shore for most of my life. I'm married and have three wonderful children. My oldest has already graduated college, and my two youngest are in college. We have two kitties, Precious and Chyna, that run the house!
I re-entered the work force a few years ago and recently joined the Donnelly Orthodontics team!
In my spare time I play tennis, bike ride, read, go to the beach and travel with my family and friends. I've also been a volunteer at a local cat shelter for many years; it's very rewarding finding furever homes for our kitties!
Caryn – Treatment Coordinator
Before joining Donnelly Orthodontics, I did my dental training at Tufts Dental School in Boston and my undergraduate studies at SUNY at Albany. Dr. Jeff Donnelly and I have been married for more than 30 years, and take pride in operating Donnelly Orthodontics as a family business.
I fell in love with Boston and the South Shore because it reminded me of my hometown in New York — only better! I have lived here for more than 30 years and enjoy all it has to offer. I love the beaches, the islands, the theatre and music in the city, and skiing in the mountains. There are great hiking trails for my two doodles, Ruby and Rogue, and access to still visit with my college-aged daughter at Northeastern.
I enjoy tennis, tennis, and MORE tennis, pilates, and occasional yoga followed by a good meal of course! History has always been of interest to me and I am beginning to love traveling to see what I have always read about in books.
Katie -Lead Orthodontic Assistant
Having completed my master's degree at the University of Massachusetts Boston, I split my time between working as an Orthodontic Assistant with Dr Donnelly, and as an editor for a local real estate magazine. I received my certification as a dental assistant in 2013 following my completion of the accredited program at Massasoit Community College, and have had the pleasure of working as an ortho assistant since then.  
I love any and all things fiction related so rarely am ever without a book! Not quite a "foodie" but am always on the look out for where to find the best nachos in the area. I live in the city with my two very spunky cats, Henrick and Pickles and one seriously demanding guinea pig, Gus.
Laurie – Concierge
You may see me bringing patients into the clinic, sterilizing instruments, cleaning or restocking. I began working with the Donnelly orthodontic team in 2017, my daughter Sadie was already in treatment here.
I've been married for 22 years. We have one daughter and she is the best thing in our life! We also have a beagle named Fred and two cats, Julia and Edith. We love boating in the summer and cheering for the Patriots in the Fall!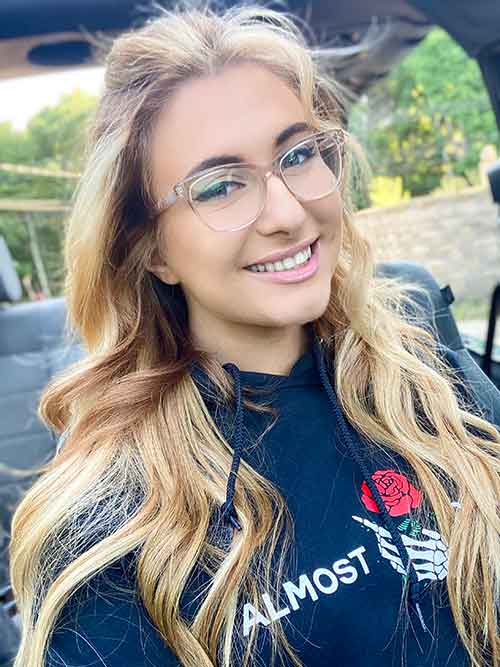 Anna – Orthodontic Assistant
I received my dental assisting license following my graduation from Bristol Plymouth Regional Vocational Technical High School. I spent a few years working in a general office but knew I wanted to transition into a specialty; I have been a part of the Donnelly Orthodontic team for almost a year now!
When I'm not at work I'm busy decorating and re-decorating our new home with the company of my very opinionated cat, Cash. I love to go mudding almost as much as I love my Jeep, and when I'm not scraping the dirt off of my tires I'm usually at home watching a new movie.